Masterplanned with great attention to detail, The Gentry Residences allows you to live beyond the bare necessities. Here, you can enjoy the finer things in life and control how you interact with the city and its elements. At The Gentry Residences, all the details come into play, the details that make for a distinguished life.

LAND AREA:

4,557 sq.m. | 49,051 sq.ft.

UNIT RANGE (approx sizes only):

Studio Unit: 30 sq.m. | 322 sq.ft.
One-Bedroom Unit: 54-65 sq.m. | 581-699 sq.ft.
Two-Bedroom Unit: 95 sq.m. | 1,022 sq.ft.
Three-Bedroom Unit: 124-222 sq.m. | 1,334-2,389 sq.ft.

Valero Street, Barangay Bel-Air, Salcedo Village, Makati City

The Gentry Residences masterfully merges the distinctive lifestyles found in the city, serving a wide demographic while providing a unique vantage point at home, at work, and elsewhere. The development ingeniously assimilates with the community while keeping a distince position from it. Here, home is where possibilities are.

The Gentry Residences Location Map Visit our showroom at Lifescapes by Alveo, G/F Greenbelt 3, Ayala Center, Makati City.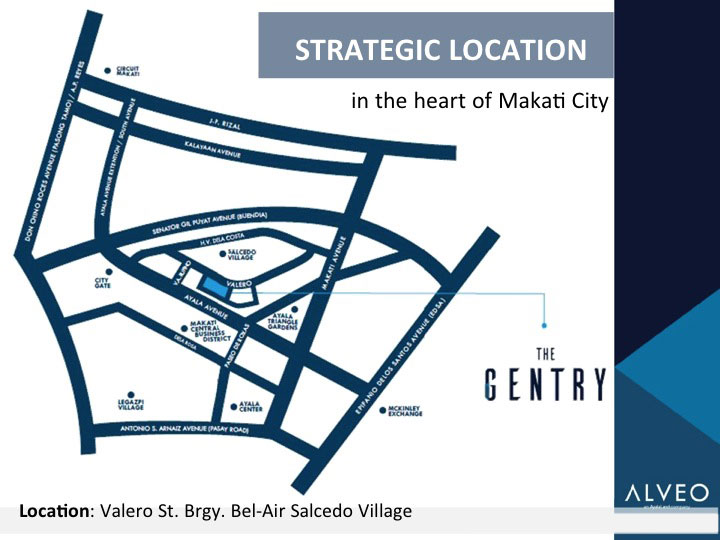 At The Gentry Residences, life is made complete and convenient. Featuring the basic amenities along with extra features and measures, the developmnet ensures that you make the most of your stay, living securely in comfort and ease. Here, even the littlest of details matter.

SUSTAINABLE FEATURES

Two (2) ventilation notches for residential corridors
Dual flush toilets
Low flow valves
LED lighting in common areas
Maximized natural lighting
Maximized cross ventilation

BUILDING FEATURES

Interior lobby
Mail room
Standby generators for common areas
Fire alarm and smoke detection system
Two (2) fire exits per residential floor
24-hour security services and maintenance
Proximity card access for elevators
Amenities located at the podium level
Centralized sanitary disposal system
Emergency electrical loads in case of power outage
Automatic fire sprinkler system
Water reservoir with separate fire reserves
CCTV cameras
Davit system for unit maintenance

AMENITIES

Lap pool
Kiddie pool
Function room
Outdoor kid's play area
Gym (to be located in retail area)