Palawan Information
The Philippines is currently the fastest growing economy in Asia. One of the 7000 plus islands that form the Philippines is widely known as "the most beautiful island in the world 2016" Palawan.

It's hard to believe the Palawan is still a pretty much undiscovered wonder, especially with its extraordinary beauty, diving and beaches.

Development opportunites
Palawan is emerging from being a sleepy island known only for fishing and mining into one of South East Asia's tourism hubs.
Massive Government investment in infrastructure on the island continues as new roads appear followed by power lines to previously inaccessible areas of breathtaking beauty.

New international airports and tourism growth
A key part of infrastructure required to develop Palawan into a tourist haven to be enjoyed by millions is the introduction of two new international airports.
One in the capital Puerto Princessa to complement the already existing domestic airport and one to cover the new main investment area in San Vicente.
The official target for tourism traffic to Palawan is 2.5m by the year 2025 (currently running at around 1.5m) this is a very conservative figure which will be surpassed by a considerable margin.

The new San Vicente International Airport is on course to open in 2017. Land prices in the area have been steadily rising for some time in anticipation with investors acquiring large areas of land for developing and land banking. However, Flbfang and partners have unique and sole access to the vast majority of the prime lots and Islands still available in and around Palawan at still at low prices.

Sustainable development
Known as the Philippines last frontier unlike Boracay, Palawan is to be developed much more sustainable in keeping with its natural surroundings with a true Filipino feeling.
A brief masterplan has been developed by the renowned Palapox associates commissioned by the Tourism Infrastructure and Enterprise Zone Authority "TIEZA" which provides perspective buyers a planning concept for developments to complement the surrounding, unspoilt environment ecologically.

Flbfang services
All of our Clients Property, Consulting, Project and Logics Management requirements within Palawan can be taken care of locally through Flbfang & partners.
Our expertise in successfully producing large and complex projects globally ensures the smooth running of any project incorporating agreed budget and time constraints.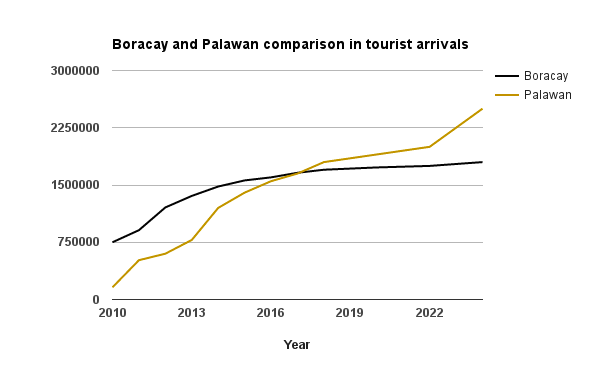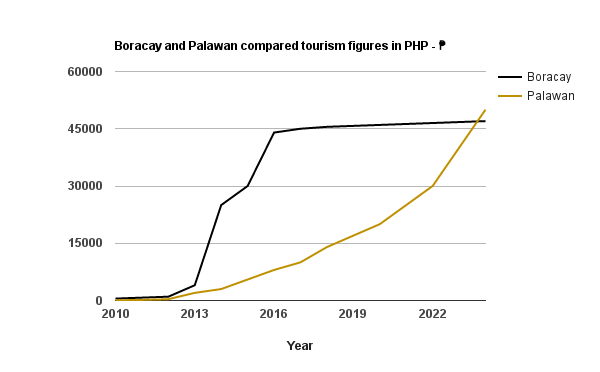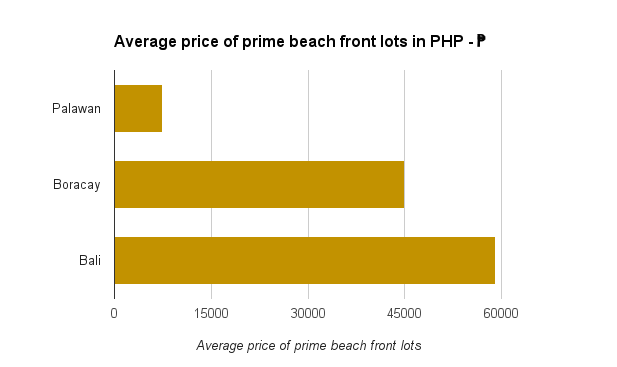 Why Palawan is voted as the World's Best Island?
For several years, tourism in Palawan is growing on a steady pace.The island's wildlife and marine life, plus the beautifully carved landscaped and white sand beaches, has truly cemented its reputation as the Philippines' last frontier.With more than a thousand islands and islets under the province, there are also more than a thousand reasons to visit Palawan. Come and let's explore the world's best island.

Wacko over Wildlife
Palawan, isolated by Sulu Sea and West Philippine Sea, is home to many indigenous animals that are not commonly found elsewhere. These includes monkeys, squirrels, bear cats, and bats.Giraffes Roaming in Caluit reserve (Philippine Trails)It even has its own island zoo park – the Caluit Island. It is in this island that a 3,700 hectare reserve is home for both local and African species (from Kenya) such as giraffes, zebras and gazelles. The Caluit Island reserve is the Philippine government's response to an appeal by the International Union for the Conservation of Nature (IUCN).

Amazing Marine Life
The pristine waters of the seas beside Palawan is also home to astonishing high number of marine species such as sea turtles, sea cows, and a huge number of corals.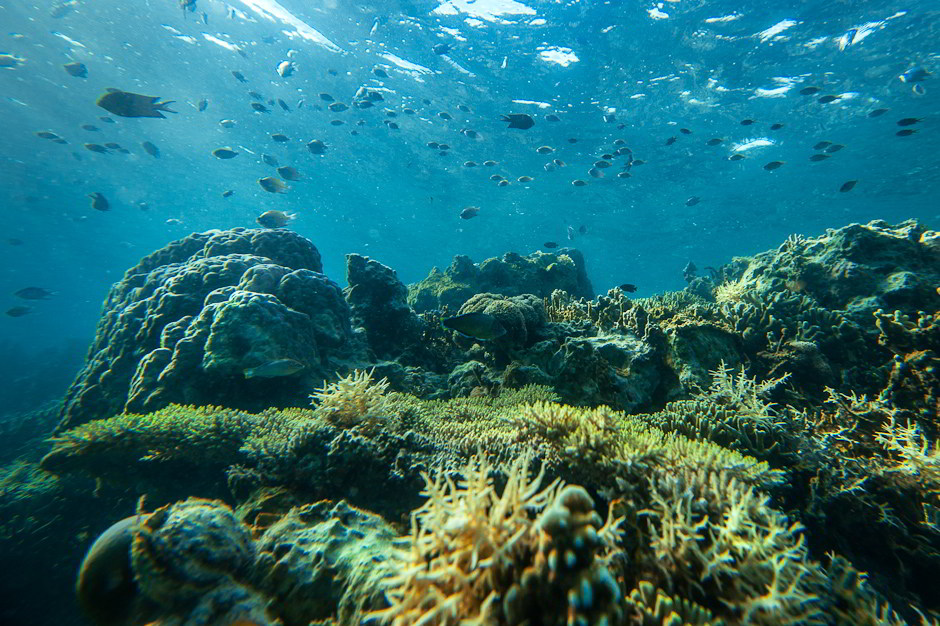 Tubbataha Reef
Palawan is also home to another natural wonder – the Tubbataha Reef (part of Cagayancillo Island Group). The Tubbataha Reefs Natural Park is a protected area featuring two coral atolls inhabited by over 1000 species of marine life. Several of the animal species include manta rays, lionfish, sea turtles, clownfish, parrotfish, moray eels, napoleon wrasse and sharks. The Tubbataha Reef is popular for season sport divers closely supervised by the Tubbataha Management Board.
Underground River
Photo Credits to Department of Tourism (DOT) Declared as one of the Seven World Wonders of Nature, the Puerto Princesa Underground River snakes for about 8 kilometers before opening up into a beautiful lagoon into the South China Sea. Experience a one-of-a-kind boating underneath St. Paul Mountain and see for yourself this true wonder.
Powdery White Sand Beaches and Rock Formations
El Nido (Courtesy of Matinloc Resort)
El Nido, another rising tourist attraction, features coves and beaches that are truly amazing and stunning. With the area's white sand beaches amidst a backdrop of rock formations, one can truly commune with nature and enjoy the scenery.Also fast gaining attraction is the island of Coron in the north of Palawan. This island group is also known for its clear turquoise lagoon perfect for boating and swimming. Also blessed with shallow reefs, one may enjoy doing diving or snorkeling. Coron is also famous for its seven mountain lakes – offering main overland attractions that provide views of stunning limestones (said to be from Jurassic era). Among these is Kayangan Lake which has been adjudged as the cleanest in all of the Philippines. Another favorite is the Barracuda Lake which is known for divers because of its Barracuda Lake.Between Busuanga and Coron Islands is a group of islets called Siete Pecados – a semi-circular string which features a shallow but astonishingly beautiful coral garden.
Courtesy of Jungle Beach Resort
Honday Bay is another ideal destination to enjoy the beach and the sea. It consists of several islets and beautiful beaches ideal for snorkeling, diving, island hopping and beach combing.
Accommodation
Matinloc Resort
There are luxurious island resorts and beach resorts in Palawan. Most of these are concentrated in El Nido and in Coron. They offer world class service and modern amenities ensuring your maximum comfort, convenience, and enjoyment during your stay in Palawan.With the increasement of tourism numbers continously rising in Palawan, it has an enviouse of quality accomodation. Investors getting into this property market now can take advatage while land prices are relatively low. Construction costs are currently also low which is an added bonus for savy investors.
PALAWAN: The Most Beautiful Island in the World
The Philippines is an insanely gorgeous and underrated travel destination. Travelers to Southeast Asia often overlook it for Thailand, Vietnam, and Indonesia. They're missing out on something incredible. Did you know it consists of over 7,000 islands? One of them happens to be voted as the most beautiful island in the world, named Palawan.
The island is accessible by either boat or airplane. It's about an hour and a half by air from Manila, although travelers can also get there from Iloilo and Cebu. Many say the ideal time to head to Palawan is between about October and May.
In Palawan, you'll find beautiful crystal blue water that mixes with emerald green. The whole island boasts of rainforests, majestic mountains, karst cliffs, primitive caves and virgin beaches.
Palawan is a diver's paradise. It's known for being one of the best spots to scuba dive in the world. Coral reefs, surrounding the island, stretch for miles and miles.Visitors say high points include island-hopping around the Bacuit archipelago to discover the cliffs, sinkholes and lagoons, and venturing to Puerto Princesa for culinary delights.
Save one day to take a boat tour through down Puerto Princesa's Underground River, one of the new seven wonders of the natural world. It's 8.2 kilometers long and runs through caves with impressive limestone rock formations.The island is also home to some of the worlds most incredible and rare wildlife, including the Cobra king, Mouse Deer, Palawan Bearcat and many butterflies, some of them as big as your hand.
Master Plan of San Vicente, Palawan
People are drawn to a place because of its natural qualities. Visitors flock to the Cordillera to see the hanging coffins in Sagada and the rice terraces in Banaue. Divers visit Tubbataha, Malapascua and Coron for the rich marine life, the thresher sharks and the shipwrecks. Four thousand visitors arrive in Boracay daily to experience the white beach. However, the irony is that the main attraction that draws people to a destination can be compromised with poor foresight, planning and management. It is for this reason that places with high potential for tourism should be masterplanned.
There are two approaches in tourism planning and development. The first is "build and they will come," such that investments like roads, an airport and seaport, water, drainage and sewerage system, and power facilities are implemented early on as catalysts for development. The second option is to have a wait-and-see attitude with the "build as they come" approach. The leaders of the Municipal Government of San Vicente, Department of Tourism and the Tourism Infrastructure and Enterprise Zone Authority (TIEZA) chose the first option.

The Town of San Vicente
San Vicente's 14-kilometer beach is the first coast in the Philippines to have a 50-meter setback from the high tide – the first 30 meters is a no-build zone and additional 20 meters of non-habitable, non-permanent structures All perspectives by Palafox AssociatesSan Vicente, in the northwestern side of the main island of Palawan, has attracted visitors and investors with its pristine beaches, marine life, rice fields and 82,000 hectares of forests. Port Barton is famous among foreign backpackers and divers that would stop over in trips from Puerto Princesa to El Nido. The beautiful islands of Boayan, Turtle and German are visited for snorkeling and swimming. In recent years, there has been much interest in the 14-kilometer long beach, said to be the longest stretch of white sand in the country.
San Vicente has more than 165,000 hectares with landscapes that include rice fields, waterfalls, unique coastlines, mangroves, mountains and forests. The town is fairly new, having been founded only in 1972, with majority of its people as migrants from Cebu and indigenous peoples such as the Agutaynon, Tagbanua and Cuyonon. The population is only 31,000, and half of them are involved in agriculture. While the town is rich with natural resources, the poverty incidence is quite high. This is why the welfare of its people are high up in the goals of the Integrated Tourism Masterplan. Before a town can be a world-class destination, it should first be a livable community.

Aerial view of the long beach. Photo courtesy of the Municipal Government of San Vicente

Palafox Associates was awarded by TIEZA to create the masterplan for the flagship Tourism Enterprise Zone (TEZ) after going through a competitive bidding. The 883-hectare area is bounded by the 14-kilometer beach and an average of 500 meters inland. The TEZ will be managed by an association that will ensure that all developments follow the masterplan. The permit process will be streamlined, and tax incentives will be granted for tourism-related activities.

Features of the Master Plan
In creating the Integrated Tourism Master Plan, stakeholders such as residents, farmers and fishermen, investors, developers, local and national government, were consulted. We were required to coordinate and get approval from the Secretaries of the Climate Change Commission, Tourism, DENR, and the DPWH. Studies were done to determine vulnerabilities to climate change and reduce potential risks in environmental stability. We formed a multi-disciplinary team that included specialists in environmental planning, architecture, design, engineering, socioeconomics, institutional management, marketing and finance. We were required to base our plan on both conservative and aggressive visitor and population projections until 2044, even if the published national projections for visitor arrivals are only until 2016. The carrying capacity of the beach in a day is 362,500 people.

People can access the beach from inland, at least every 400 meters
Most waterfronts in the Philippines have a building height limit as high as the coconut tree. While the intention for such restrictions may be good, this has resulted in the hogging of sea views, access and breeze by waterfront properties.
In San Vicente, buildings are allowed to be taller the farther they are from the beach. Fences parallel to the sea will not be allowed, and a maximum building footprint of 50 percent is proposed.
One of the first projects to be funded by TIEZA is access to the beach approximately every 400 meters, which is the average walking threshold for most Filipinos. They will have a minimum width of three meters to be able to accommodate emergency vehicles. From any point within the TEZ, there will be a community center within 800 meters. It will have public open space and facilities such as toilets, security outpost, clinic, banks, and tourist information center.

An ascending building height limit will be implemented to preserve beach views and to share the sea breeze even with inland properties.
International beach destinations such as Copacabana in Brazil, Miami in Florida, and Nha Trang in Vietnam follow a 50-meter setback from the average high tide. In the Philippines, however, the required easement is only 25 meters. This is not sufficient considering risks such as rising sea levels and storm surges. The final approval was for a 30+20 meter setback. The no-build zone is within the first 30 meters from the average high tide mark, and there is a list of allowable uses within the next 20 meters. Within this buffer zone, there will be no permanent, habitable, and with-foundation structures. DPWH insisted that there be guidelines regarding the preservation of the existing tree line along the beach. The natural vegetation should not be compromised by buildings, even if they are in the list of allowable uses.

In areas that are found to have risks of flooding, adaptive architecture will be applied. There will be no bedrooms on the ground floor, and structures will be designed on stilts. These were based on studies of flood simulations for up to 100 years.

The steps of buying property in Palawan
Select preferred method of purchase (3 options)
Property transaction
Notaries, Taxes and other instituional fees are paid (standard taxes, fees and their administration are included in our service)
Ownership certificate handed over
Transfer Tax
This is a tax imposed on any mode of transferring the ownership of a realproperty, either through sale, donation, barter, or any other mode.
This varies to a low of 0.5 percent to a high of 0.75 percent of the zonal value of selling price of the property, whichever is higher, depending on the municipality where the property is located. To determine the exact amount, the buyer should consult with the City or Municipal Treasurer.

Registration Fee
This fee is paid for the registration of a deed of sale, conveyance, transfer, exchange, partition, or donation of a real property and is paid to the local Registry of Deeds or Land Registration Authority where the property is located.
To make the calculation simple, let's use Php1.7 million as the property's selling price, an amount that incurs a registration fee of Php8,796. However, if the property's selling price exceeds Php1.7 million—for example, Php2 million—the buyer will add Php90 for every Php20,000 in excess of Php1.7 million. Hence, the Registration Fee for a property worth Php2 million will be Php10,146.

Notary Fee
The Deed of Absolute Sale should be also notarized, which requires a fee of about 0.1 to 0.15 percent of the property's selling price.
The following are frequently asked questions we have received by interested buyers worldwide along with our responses.

Question: Can I come anytime to see the property? What is involved in seeing your properties for sale.

Answer: Yes any time to suit. We just require 48h notice of your arrival before we can confirm the travelling itinerary which would include pick from the airport, the whole trip and back to the airport.All expenses (fuel, hotels etc) incurred by the prospective buyer during the tripping would be deducted from the price of the property upon closing.

Question: I am a foreigner interested in buying a lot in Palawan. Can Foreigners own Lands in The Philippines?

Answer: The answer is yes, although there are some restrictions as to "how" the property is owned by the foreigner. We at Flbfang & Partners are well versed in dealing with these methods via our in house legal department to provide our clients with full rights and control of any property here in the Philippines.

Question: What is the difference between a Titled and a Tax Declaration property?

Answer: Settlement in Palawan has largely taken place over the last 30 years, and much of the land remains untitled. Settlers who have come here have, in many instances, settled on and improved land. In so doing they have also declared the land for tax purposes, and taxes have been charged as if the occupant were an owner of a titled property. Such a property can be sold, so long as the owner has proper documentation, and is referred to as a Tax Declaration property.

The extra security of an official title of deeds will be reflected in the price of a titled property. Tax Declaration properties can be titled later. It is always prudent to seek the advice of a qualified real estate lawyer here in Palawan. A good way to achieve maximum capital gain is to buy the property at Tax Declaration status and Title it yourself, but you will not have this option if it is already titled.

Question: I leave the country twice a year for over a month at a time. Who reliable can I get to look after my property and vehicle while away?

Answer: Traditionally a foreigner would trust this responsibility to his partner/wife's family or native workers, however we have heard many complaints over the years from these kind of arrangements. A more reliable alternative is to hire a Property Management company to make site visits and email you pictures while away. They can pick up your rent, deposit your money and even pay your bills while you are away. We can provide this service if required.

Question: Who reliable can I use to maintain my property until I am ready to build after I buy it?

Answer: You should hire a professional landscaper while you are away or all year round. There are many months during our summer where we see low amounts of rain. There are many horror stories of whole gardens, flower beds and farms dehydrated and dead due to poor or unknowledgeable gardeners who accidentally destroy the property's vegetation. A professional landscaping service can clear, maintain and plant all types of tropical vegetation. They should even be able to email you progress update with attached pictures or video. We can provide this service if required.

Question: I see many Islands on sale in Palawan. Some have cottages on the water. How can I get permissions to do this also?

Answer: Most Islands in Palawan are only under a tax declaration. The few Islands that are titled have had applications made and approved for an official certificate of title. An owner can apply for a Special Land Use Permit (SLUP) and if approved will give them special permission to lease the water in front of the property for various uses. We can provide this service if required.